Moving away from home to study in a foreign country can be bittersweet, but it doesn't have to be. With the right mindset, an experience like studying abroad can be life-changing.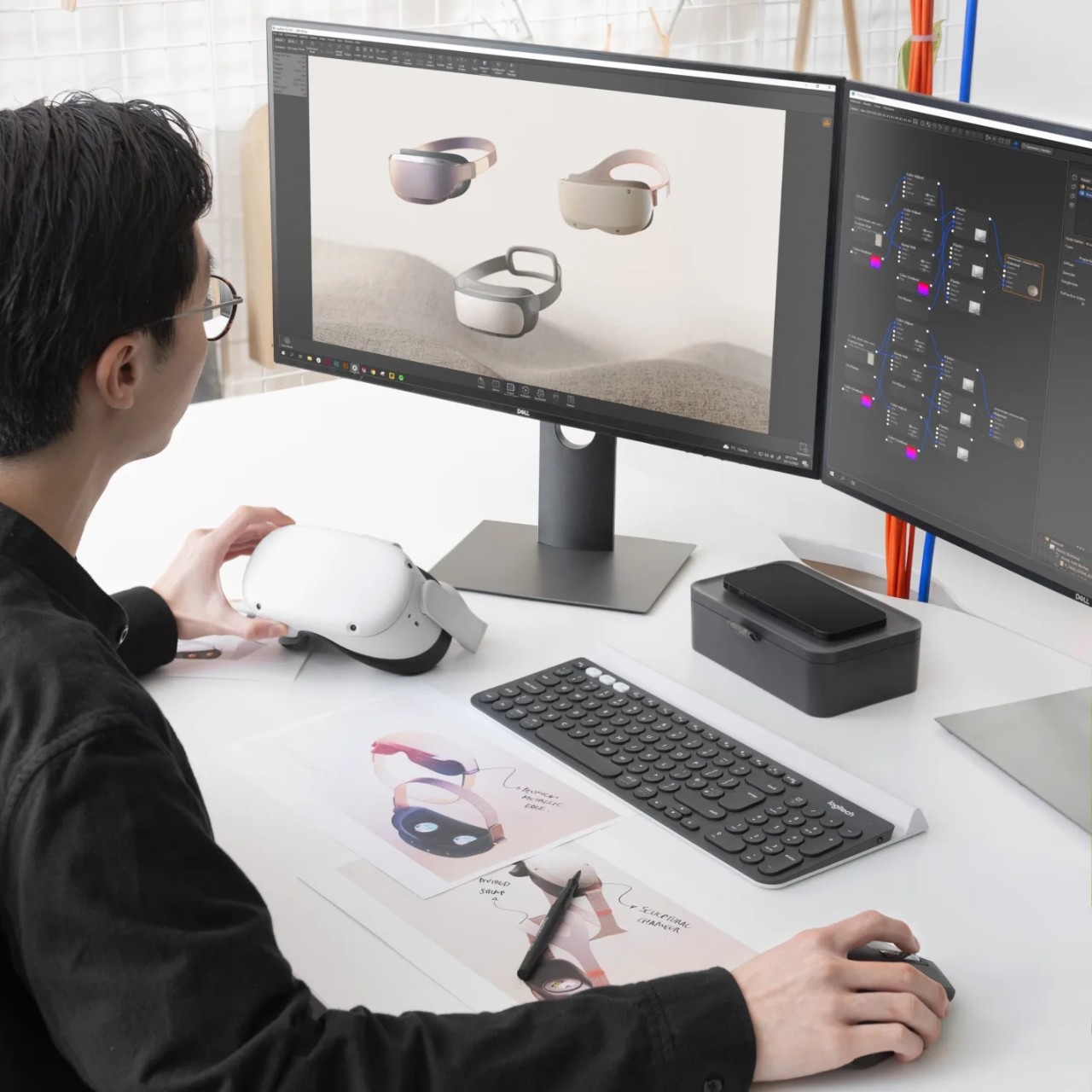 Angus Chung assesses his team's work-in-progress design concepts through photo-realistic software at LAYER. Photo/provided
Angus Chung, a University of Cincinnati (UC) industrial design graduate, maximized his learning with every internship and co-op during his time at the College of Design, Architecture, Art and Planning (DAAP). Chung graduated from UC's industrial design program in 2018 and is employed byLAYER, an award-winning design studio based in London, U.K. He has worked on several projects for international brands such as Samsung and Bose, as well as completed multiple internships.
Chung viewed each of those opportunities as unique.
"For each internship, you're at a different stage. As you grow as a person and as a designer, each one you do can give you a different take on it," Chung said. "I'm always grateful for all the opportunities that I've been given, and I've been fortunate enough to be part of it."
Like Chung, Fabian Hoogendijk, a fourth-year industrial design student, and Daniela Blanco, a third-year communications student with a minor in fashion studies, are international role models at DAAP. They have maximized their learning experiences by having a beginner's mindset, as well as growing personally and professionally.
These studentsfrom around the worldare grateful for the opportunities that DAAP has offered to them and will continue to offer them well into their careers.
Offering opportunities not found elsewhere
Chung's decision to attend UC DAAP was largely due to attending DAAPcamps in 2012 from England. As one of the first-ever international students, he began to dream of attending DAAP as a full-time student. This decision was one that Chung was happy with. He believes it provided him with opportunities he couldn't have had elsewhere.
"I'm raving about DAAP and my decision so much because I think without it, I wouldn't be where I am today," Chung said. "DAAP was the vehicle for me to learn that much earlier, which gives me that much more confidence to keep up on the path where I see myself going."
But Chung's story started even before attending DAAPcamps. Chung took the initial step of contacting UC professor Peter Chamberlain, who has been teaching industrial design students at the university for 16 years and happened to be in London for a conference when Chung reached out to him. Chamberlain was one of Chung's first points of contact when starting out at DAAP.
"I was at a conference in England," Chamberlain said. "He and I met, and he showed me around London, and I had dinner with him.
"I had some great conversations with him even before he entered our program. I've never had that experience with any other students. It was just sort of serendipity, the fact that I was at that conference, and he happened to be from London and happened to reach out to me."
After DAAPcamps, Chung was determined to attend UC. He did everything to make it happen. "They all sold the dream," Chung said. "Basically, I was like, how can I do it?"
But unlike in the United States, college admissions in England are portfolio-based. He had to figure out a way to take the SAT.
Another compelling reason why Chung made the decision to attend DAAP was the co-op program, ranked No. 1 in the U.S. among public universities.
"The co-op program really resonated with me because of the number of experiences that you're able to get within your bachelor's degree, rather than what we would have in the U.K., where it's one year's worth of experience," Chung said. "It was a no-brainer for me."
This perspective resonates with other international students as well. Fabian Hoogendijk was highly motivated to attend UC once he found out about the co-ops and what they entail.
(Video) Don Norman: The Future of Design Education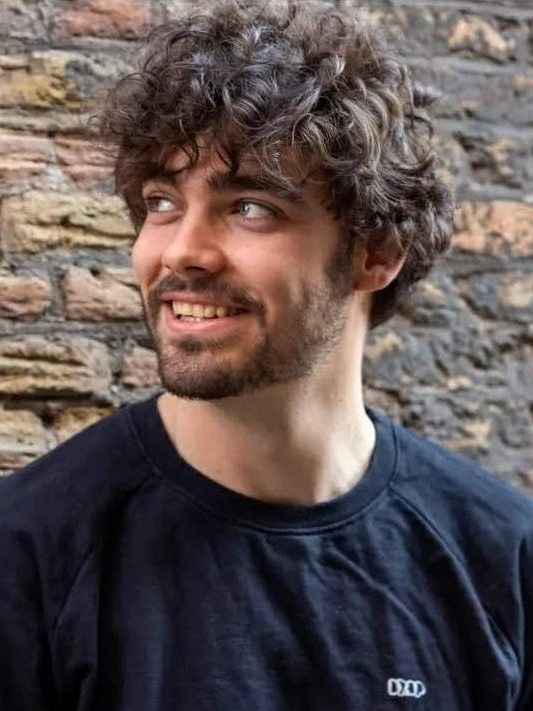 Fabian Hoogendijk/provided
Hoogendijk is an exchange student from Spain who is attending Technical University of Delft in the Netherlands. He has been on co-op at Procter & Gamble since January, an opportunity he does not take for granted.
"The biggest thing is being able to work for a company that has such an influence around the world," he said.
Hoogendijk's journey stands out because internships are not encouraged at his university.
"Coming from my university where doing internships is not pushed at all… I just think it's great that I get to do that," he said.
One of Hoogendijk's strengths is his technical background. In the U.S., he quickly realized that represented a challenge.
"For my university in the Netherlands, they expect reports and showing data, proving everything," he said. "Whereas in the States, they prefer to see beautiful work and to have the facts presented quickly. Switching my work from one side to the other was a big challenge."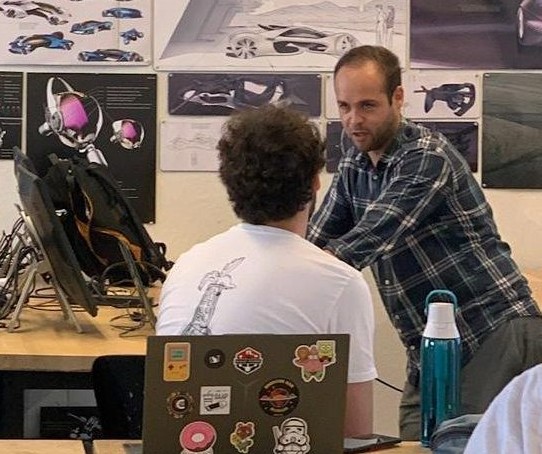 Fabian Hoogendijk has a one-on-one session with Professor Alejandro Lozano about portfolios and class project sketches. Photo/provided
(Video) Why Finland's schools outperform most others across the developed world | 7.30
To take on those challenges, Hoogendijk worked closely with UC adjunct professor Alejandro Lozano, who teaches a future mobility course where students get the opportunity to work with VR glasses by the companyGravity Sketch.
"He (Hoogendijk) designed a future motorcycle," Lozano said. "He created a whole space in VR in which it was not only the vehicle itself, but the context around it and the process of designing it and how he got to the final design.

"I remember having conversations with him," Lozano continued. "He was very impressed by his own process because he didn't know that he could do that kind of work, and all it took was just showing a different method, a different approach."
In order to explore his potential, Lozano focused on how to use the student's challenges as an advantage.
"I can tell you the depth of research that students like Fabian had in some of the projects was much more comprehensive than some others, which was very good when he started interviewing," Lozano said.
Courage and passion are drivers for students to first seek opportunities and come up with ideas. Daniela Blanco, the founder and editor-in-chief of The U Scene, is no exception. The U Scene is the first fashion publication at UC. Blanco, who is from Venezuela doing a double major in communications and marketing with a fashion studies minor, launched it in April 2021.
She knew she wanted to be involved in fashion since she started applying to colleges. While researching UC's student life, she noticed it did not have a fashion publication.
"I only saw that they had a fashion association, which is of course related to fashion, but it's nowhere near having a magazine or creating something as great as I wanted to be part of," Blanco said. "So after a semester at UC, I took the initiative and started my own fashion magazine. I hadn't seen anybody consider it on a wider scale."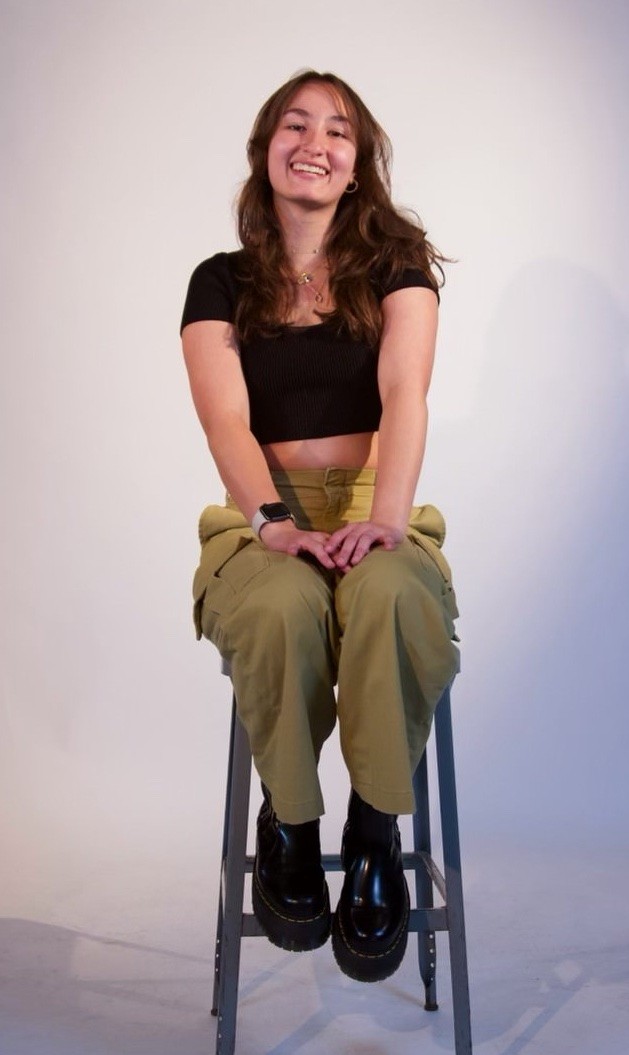 Daniela Blanco/provided
She soon realized others wanted to be part of her vision.

"After talking to the right people, getting connected, asking my friends, I saw that there were people who also wanted to have the experience of participating in something creative outside of their academic field," Blanco said.
After Blanco started her project, she contacted Jennifer Krivickas, an associate senior librarian and instructor at DAAP, who saw Blanco's potential from the beginning.
"Dani is remarkable because she has ideas, ambition, a great work ethic, and a great personality," Krivickas said. "She's so passionate and engaged in that which interests her. She is confident yet comfortable asking for time and mentorship from others."
To Krivivkas, it was odd that UC DAAP did not already have a student-led fashion publication. To help her, Krivickas reached out to theCritical Visionsfaculty — Stephanie Safre Orafai at A&S and Jordan Tate at DAAP — and ask if they would be advisers. They agreed. From then on, both have overseen the work produced at The U Scene.
Back home Blanco was a staff writer for a publication called Caraota Digital, based in Venezuela and with offices in Miami.
"That really impacted me because that was the first kind of experience that had related directly to publishing, writing and creating content," Blanco said. "I would say that's the first taste I got in that field. I learned how demanding it can be but also how satisfying it is to put something out there with your name on it."
While the publication is still fairly small, Blanco is confident it will grow.
"I don't think a lot of people have an idea of what The U Scene is," Blanco said. "I think it's still very simple, but I do believe that it has the potential to be something big."
Featured image at top of DAAP building: Jac Yocis/UC Marketing + Brand
This story originallyran onlineas part of a UC journalism capstone course.
(Video) Why Starbucks Failed In Australia
By Andrea Oberto
UC journalism student
Become a Bearcat
Whether you're a first-generation student or from a family of Bearcats, UC is proud to support you at every step along your journey. We want to make sure you succeed — and feel right at home.
(Video) Undisciplined By Design Episode 10
FAQs
DAAP's co-op program puts students in each of the college's four schools to work, alternating semesters of coursework with real-world experiences that prepare them for careers, build impressive resumes, and grow their professional networks.
What is DAAP known for? ›
Located in the university's main campus in Cincinnati, Ohio, DAAP is consistently ranked as one of the most prestigious design schools in the U.S. and the world.
What is University of Cincinnati DAAP ranked? ›
An industry publication, Planetizen, ranks our Planning graduate programs in planning amongst the best, fourth in the Midwest and 16th in the nation.
What is University of Cincinnati Industrial design ranked? ›
Another Ranking Places UC's Industrial Design Program at No. 1 in the Nation | University Of Cincinnati.
What is the average GPA for DAAP? ›
Admission to DAAP is based on grades and test scores, no portfolio is required, but on average they look for a 3.3 GPA and 26+ ACT.
What majors are in DAAP? ›
Is UC Davis a well known school? ›
UC Davis is a tier one research university. Several of our programs are among the best in the country and have been for decades.
What is UC Davis a good school for? ›
UC Davis offers a wide range of academic options within its undergraduate, graduate and professional schools and colleges. Among the school's graduate programs are the highly ranked Graduate School of Management, School of Law, School of Medicine, College of Engineering and School of Veterinary Medicine.
What course is UC Davis known for? ›
UC Davis Ranks Highly for Veterinary Medicine, Agriculture, Campus Sustainability and More. UC Davis is the best for reasons you may already know — our world-leading veterinary medicine and agriculture programs, for starters — and plenty of reasons you might not.
Is Cincinnati a Tier 1 university? ›
Is University of Cincinnati a Tier 1 school? U.S. News & World Report ranks UC in the Top Tier of America's Best Colleges (67th among public universities), and Reuters has named UC among the world's top 100 most-innovative universities, one of only 46 U.S. universities to make that prestigious list.
The most popular majors at University of Cincinnati include: Business, Management, Marketing, and Related Support Services; Health Professions and Related Programs; Engineering; Visual and Performing Arts; Biological and Biomedical Sciences; Communication, Journalism, and Related Programs; Computer and Information ...
Is University of Cincinnati prestigious? ›
University of Cincinnati's ranking in the 2022-2023 edition of Best Colleges is National Universities, #151.
Which industrial designer schools are best? ›
How hard is it to get into University of Cincinnati medical school? ›
Is a 3.922 GPA good? ›
So, strictly speaking, a 3.9 GPA is just a tenth shy of a perfect score and demonstrates academic excellence in every class. Moreover, a 3.9 GPA far exceeds the average GPA that most colleges use as their unspoken baseline for competitive admission (3.0) and the benchmark GPA for more selective colleges (3.5).
Is a 3.7 GPA good for UC Davis? ›
You must earn at least a 2.40 GPA in your UC-transferable classes to meet UC requirements; California non-residents must earn at least a 2.80 GPA. However, UC Davis requires a minimum 2.80 GPA to be selected for admission, and many of our most popular programs may require a higher GPA.
Is a 2.889 GPA good? ›
Is a 2.9 GPA Good? A report card consisting of nothing but Bs would equate to a 3.0 GPA. Because a 2.9 GPA is so close to that benchmark, it demonstrates frequent above-average academic performance.
What does DAAP stand for College? ›
The College of Design, Architecture, Art, and Planning (DAAP) immerses its students in learning and practice through real world experience-based learning in over 20 undergraduate, graduate, and certificate programs which span a broad range of creative disciplines.
What are popular majors in UC Davis? ›
What is the meaning of DAAP? ›
pride, arrogance, haughtiness, conceit, insolence, self-importance, boastfulness.
UC-Davis is home to over 30,000 undergraduates, second only to UCLA within the University of California system. Although it is easier to get into UC-Davis than it is to get into UCLA or UC-Berkeley, that differential is fading over the years and the competitiveness of the university is increasing.
Is UC Davis a public Ivy? ›
The University of California, Davis (UC Davis, UCD, or Davis) is a public land-grant research university near Davis, California. Named a Public Ivy, it is the northernmost of the ten campuses of the University of California system.
Is UC Davis better than UC Berkeley? ›
Among public universities in the national universities category, UC Davis ranked second only to UC Berkeley. An introduction to the rankings noted the UC and California State University systems for their many campuses "in the upper echelons" of the rankings, which included 1,507 four-year colleges.
Why is UC Davis ranked so high? ›
A world-class university, UC Davis is highly ranked for how it transforms students' lives, the impact of its research, the excellence of its academic programs, sustainability and more. The university performs self-evaluations and also appreciates the value of third-party assessments.
What is the average UC GPA for UC Davis? ›
The average GPA at UC Davis is 4.03. This makes UC Davis Extremely Competitive for GPAs. (Most schools use a weighted GPA out of 4.0, though some report an unweighted GPA. With a GPA of 4.03, UC Davis requires you to be at the top of your class.
What GPA is an A at UC Davis? ›
A- 3.700. B+ 3.300. B 3.000 "Good" B- 2.700.
What is the easiest major at UC Davis? ›
Is UC Davis worth the money? ›
The Wall Street Journal-Times Higher Education College Rankings recognize UC Davis among its top five public universities. US News & World Report's Best Colleges for 2022 put UC Davis among the top public universities in the country and highlight the social mobility the campus offers students.
Is UC Davis a hard school to get into? ›
The acceptance rate at UC Davis is 41.2%.

For every 100 applicants, 41 are admitted. This means the school is moderately selective. The school expects you to meet their requirements for GPA and SAT/ACT scores, but they're more flexible than other schools.
What are the Tier 2 universities in the US? ›
Tier 2 schools include: USC, Washington University in St Louis, Tufts, Tulane, NYU, Boston University, UNC Chapel Hill, University of Michigan Ann Arbor, Notre Dame, Emory, University of Virginia, Wake Forest, UT Austin College of Natural Sciences, Boston College, Georgia Tech, William and Mary, UCLA, UC Berkeley, ...
Tier 2 represents selective private liberal arts colleges (like Williams, Smith, Swarthmore, and Amherst Colleges); Tier 3 refers to public research universities (like UT Austin, Brandeis, Occidental, and UCLA);
What are Tier 1 Tier 2 and Tier 3 universities in USA? ›
Tier 1 consists of major private research institutions like Yale, Johns Hopkins and New York University. Tier 2 schools are selective private liberal arts colleges like Middlebury and Vassar. Tier 3 are major public research universities, among them most of the University of California system.
Is Cincinnati a good place to live? ›
Home to several Fortune 500 companies, Cincinnati's job market is diverse and healthy, so people moving to Cincinnati won't have trouble finding great job opportunities. The city is perfect for young professionals in major industries like healthcare, finance, manufacturing, and retail.
What are the top 5 majors at Ohio University? ›
The most popular majors at Ohio University include: Registered Nursing/Registered Nurse; Marketing/Marketing Management, General; Psychology, General; Speech Communication and Rhetoric; Business Administration and Management, General; Zoology/Animal Biology; Business/Managerial Economics; Early Childhood Education and ...
What are the top three popular majors? ›
The most popular college majors in the United States are business, health, and social sciences, according to data from the National Center of Education Statistics (NCES). Of the 2 million bachelor's degrees conferred in the US during the 2019-2020 school year, these three majors made up almost 40 percent.
What is the average GPA to get into University of Cincinnati? ›
The GPA requirement will vary from program to program. It is generally 2.5 for undergraduate and 3.0 for graduate. Be sure to check the program for criteria and what to do if your GPA is lower than required.
What is the average Cincinnati GPA? ›
The average GPA at University of Cincinnati is 3.7.
What is the most prestigious UC school? ›
What's the easiest UC to get into? ›
The easiest UC schools to get into include UC Santa Cruz, UC Riverside, and UC Merced, all of which have acceptance rates over 50%. Located 40 minutes outside San Jose, UCSC earns high marks for its picturesque campus and close beach access.
What is the smallest UC school? ›
UC Merced, which opened in 2005, is the newest of the UC campuses and has the smallest enrollment. It has around 8,000 undergraduates. UCLA, which has the largest undergraduate enrollment, has over 30,000.
What is the average age of an industrial designer? ›
The average age of an employed senior industrial designer is 39 years old.
What is the maximum salary of a industrial designer? ›
Industrial Designer salary in India ranges between ₹ 2.4 Lakhs to ₹ 16.0 Lakhs with an average annual salary of ₹ 6.0 Lakhs.
What are the 4 fields of industrial design? ›
Behold the Design Garage—a categorizing of designed-object activity into four primary fields: Commercial Design, Responsible Design, Experimental Design, and Discursive Design.
What is the lowest GPA admitted to medical school? ›
A GPA of 3.0 or higher is generally considered to be the minimum requirement for medical schools. Some schools may have a lower minimum requirement, such as a 2.5 or 2.75, but these are less common.
Will a 3.8 GPA get me into med school? ›
Admissions experts advise aspiring medical school students to aim for a GPA of 3.5 or higher.
Is a 3.8 GPA good for top medical schools? ›
Many admissions officers view a GPA of 3.8 as very competitive, and they like to see at least a GPA of 3.5 or above. These scores will be especially competitive if your major is related to medicine, and it's even better if it's a difficult science major like neuroscience or physics.
What is a DAAP? ›
College of Design, Architecture, Art, and Planning.
What is the DAAP code 2023? ›
Description. DAAPWorks is a show of senior design students' capstone projects, celebrating their 5 years in DAAP. DAAPWorks CODE 2023 specifically focuses on CODE (Communication Design) senior students and their capstone projects. Come help us monitor the senior projects and be inspired!
How to apply for UC DAAP? ›
Current University of Cincinnati students who wish to apply to a DAAP program should complete the Application for Change of College and Program form. Visit the Transfer and Transition webpage for more detailed instructions on transitioning to DAAP.
What are the benefits of DApp development? ›
The benefits of dApps include the safeguarding of user privacy, the lack of censorship, and the flexibility of development. Potential drawbacks include an inability to scale, challenges in developing a user interface, and difficulties in making code modifications.
What does DApp mean and how does it work? ›
A Decentralized Application (DApp) is an application built on a decentralized network that consists of a smart contract backend and a user interface frontend. DApps are 'permissionless,' meaning anyone is free to use them. Indeed, many DApps include smart contracts others have written.
What is an example of a DApp? ›
Ethereum has given birth to the most-well known DApps, some of which have achieved millions of dollars in market cap, such as Golem, Augur, Melonport and EtherTweet.
What GPA do you need to be UC eligible? ›
UC has a specific way to calculate the grade point average (GPA) it requires for admission. California applicants must earn at least a 3.0 GPA and nonresidents must earn a minimum 3.4 GPA in all A-G or college-preparatory courses to meet this requirement.
What is the minimum GPA to apply to UC Davis? ›
However, UC Davis requires a minimum 2.80 GPA to be selected for admission, and many of our most popular programs may require a higher GPA. Strive to achieve your highest possible GPA in order to be most competitive.
How can I increase my chances of getting into UC Davis? ›
Average GPA: 4.03

With a GPA of 4.03, UC Davis requires you to be at the top of your class. You'll need nearly straight A's in all your classes to compete with other applicants. Furthermore, you should be taking hard classes - AP or IB courses - to show that college-level academics is a breeze.
Is University of Cincinnati a hard school to get into? ›
The acceptance rate at University of Cincinnati is 73.1%.

For every 100 applicants, 73 are admitted. This means the school is lightly selective.
Does University of Cincinnati accept international students? ›
Every year, we welcome over 3,000 students from 115 countries to our campus. Explore our website to learn why these students have chosen to call Cincinnati their home - and how you can too!
What is the acceptance rate for University of Cincinnati medical school? ›